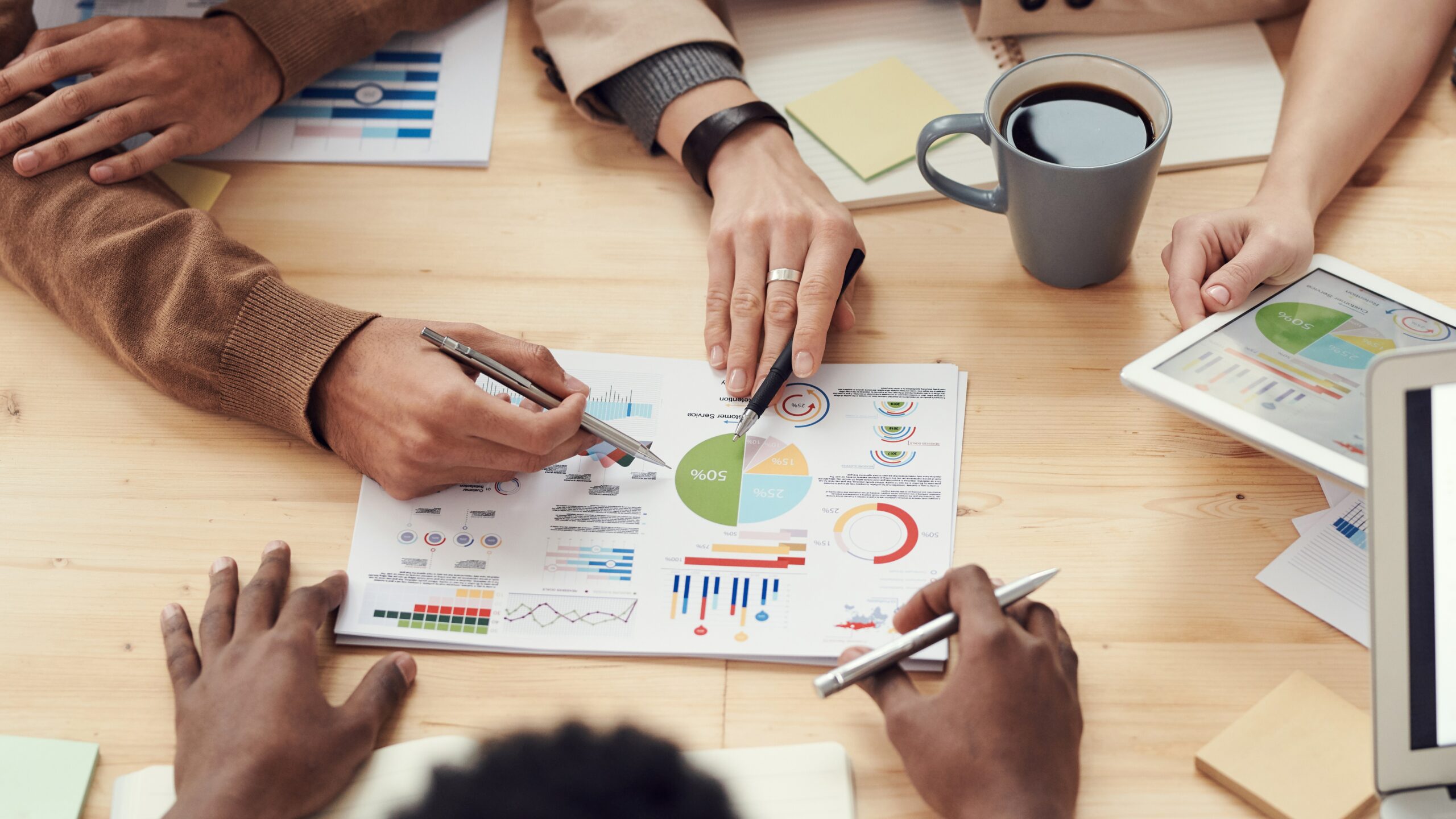 What is the Visual System of WorkTM?
Getting a basic understanding
In business there seems to be no difficulty in making things complicated.  That need not be the case.
For a small-to-medium-sized business, there is a simple way to observe, manage and improve the business: visually.
Visual System of WorkTM (VSOWTM) uses 12 simple tools to understand a business, measure it, manage it and improve it.
Why "Go Visual"?
In his book, "The Visual System of Work", David Lord says it this way: "The simple
act of seeing how a business works naturally leads employees to more personal involvement as well as better communication, cooperation and coordination of effort within that business."  When employees in a business can "see what is happening" in a business, each one can observe the business, take actions with deeper understanding in their respective areas of responsibility, and more effectively communicate areas of difficulty and opportunity.
David states 5 underlying assumptions to this approach:
Every business has opportunities for improvement.
Identifying and improving those areas will help the business work better.
When actual observation and concrete data are used to evaluate the business (rather than relying on people's perceptions) solutions emerge to help the business work better
All members of the business must collaborate to analyze data and generate solutions for improving performance.
When involved, everyone within the business will help to improve performance.
The Twelve Tools in Two Phases
The VSOWTM twelve tools can be used to develop trust in establishing the "baseline" business operation and then executing measures to improve it.
Trust is built in the "Strategic Planning" phase of the tools.  After initial discussions with a company owner or CEO, these key elements –
organizational structure
business strategy and current condition
business Break-Even point
–  are generated with the broader team of employees and are used to quickly establish visibility and capture potential improvement projects.
After this initial phase a 90-Day plan is captured on the basis of the projects that have been captured and the inputs from the elements listed above.  This launches the business into the "Strategic Execution" phase, where the business owner and the employee team develops a graphical representation of how the company processes flow, how they can be measured and managed and how time is spent, down to the individual level.  These steps enable the team to identify and attack the constraints that limit the business from making money.
The general process of using the VSOWTM tools is shown below. 
Here are the twelve tools:
1. Functional Organization Chart
2. Strategic Planning Sheet
3. Break-even Point / Financial Plan
4. 3-Questions
5. Project Planning Sheet (5W-2H)
6. System of Work (Macro Flow)
7. Scoreboard
8. Procedures (Process Maps)/ Work Instructions
9. Task Matrix
10. Time Matrix
11. Meeting Matrix/ Meeting Agendas
12. TIP (Throughput Improvement Plan)
Why and When to use the VSOW Tools
Each of the twelve tools works in harmony with the others to produce results.  There is a sequence that can be generally used to help a business improve.  Each tool is used for a specific purpose and has a context in which it should be used.
Strategic Planning Phase
| | | |
| --- | --- | --- |
| 1. Functional Organization Chart | Shows the overall view of the 'Team' by documenting which person is accountable for each role or key position within a business. | Functional Organization Chart is created or revised with a facilitator to help the business owner convey who is working with whom, and how they work together. |
| 2. Strategic Planning Sheet | Used to understand and discuss the 'current' business reality and opportunities to make money and generate cash. | A facilitator help the team to create a Strategic Planning Sheet to focus on how the business makes money. |
| 3. Break-even Point / Financial Plan | A method to track, monitor, and report a business's ability to make money and generate cash. | The Break-Even allows the business owner to establish the units required to begin to make money. |
| 4. 3-Questions | 80/20 focus on "What's important?" (Believable and Attainable) | During the project kick-off meeting, the Management Team reaches consensus from the 3 questions on the vital few improvement actions to take to make money and generate cash. |
| 5. Project Planning Sheet (5W-2H) | Answers to these questions enable projects to be completed on time and within budget. | Based on the vital few improvement actions, the team creates a Planning Sheet stating the What, Why, When (in sequence) and Who is involved.  The Management Team uses these to endorse and plan the required actions – then the team goes to work! |
| | | |
| --- | --- | --- |
| 6. System of Work (Macro Flow) | Shows a business's 'whole system' and 'key interfaces' (leverage points). Useful for developing procedures, work instructions, and continuous improvement projects. | Showing the whole system of the business and key interfaces, this becomes the foundation for developing procedures, work instructions, and continuous improvement projects.  It provides a significant basis for success and has a pivotal role in the Visual System of Work.  By viewing the workflow as a process, employees develop a shared understanding of how work flows through the system and where they fit into it. Here they see how their individual actions may influence the company's overall performance. |
| 7. Scoreboard | Measures progress relative to business objectives. Promotes feedback and accountability. | Knowing that you are winning is essential.  The System of Work becomes an important reference document when understanding what it means to win and the Scoreboard shows you if you are winning.   The Scoreboard may be a combination of the key Lag and Lead Metrics that is based on the Financial Break-Even Point.  It is a vital document to be reviewed to support efforts throughout the Enterprise.  Usually a manager or team member is responsible to maintain the Scoreboard. |
| 8. Procedures (Process Maps)/ Work Instructions | Explains how to execute business activities. High level, complex steps and instructions are provided in more detail. | Within each function of the System of Work are procedures  – shown as a flowchart of those with the greatest impact on delivering on-time, complete, and accurate products and services.  Handoffs between procedures are critical – that the giver and the receiver of each handoff have a shared understanding of exactly what is needed and how to work together. |
| 9. Task Matrix | Enables employees to have a shared understanding about what to do, when to do it, and the time needed to successfully complete the task. | For a business to be successful, it is critical to do the right thing, at the right time, and do it right.  The Task Matrix documents who is doing what in relation to the work procedures – on a daily, weekly, and monthly basis. |
| 10. Time Matrix | Confirms an employee's understanding about 'doing the right task at the right time.' | A Time Matrix aligns individual employee tasks with other employees, departments, and meetings.  It also helps create the time necessary for "deep work". |
| 11. Meeting Matrix/ Meeting Agendas | Used to determine that the meetings are important, necessary, and have the appropriate agenda. Helps to establish a 'Meeting Rhythm' within a business. | Meetings are the bedrock for enabling businesses to focus on what is most important as revealed through use of the previous tools. Every employee in a business should participate in some meeting or daily huddle to provide clarity, accountability, and communication is fostered throughout the business. Meetings help eliminate constraints and get more work done faster.   A Meeting Matrix helps to determine what meetings are necessary to operate the business. A Meeting Agenda (The Planning Sheet) helps to keep a meeting stay on course to achieve the desired outcomes.  These two tools will help achieve a 'meeting rhythm' within a business, where team members really get to know, understand, and trust each other much better and everyone within the business is helping to promote ongoing, continuous improvement. |
| 12. TIP (Throughput Improvement Plan) | Identifies constraints (interferences) that slow down or stop the flow of work.  Focuses on increasing the speed of workflow and enhancing opportunities to make money and generate cash. | To improve the workflow of the business, TIP offers a simple and powerful process for selecting and attacking workflow constraints.   The business will be better equipped to address the areas that are constraining flow once it is stabilized by using the other VSOW Tools.  Greater opportunities for making money and generating cash are created by identifying "leverage points" within a system that have the potential for producing more and more, faster and faster.  With the use of the Task Matrix, the Meeting Matrix, the Time Matrix, and the results seen in the Scoreboard, the TIP can be utilized on an on-going basis to increase throughput as further constraints in the "leverage points" are discovered. |
Each tool has a particular role in producing improving change in the business.  Some of the tools may have an existing basis.  For example, a company may have an organization chart that can be adapted to show the organizational structure (not the same thing).  There may be a flow chart already which shows the flow of processes within a company, that can be used as the basis for the System of work.  Existing calendars can be used to form the basis of the Meeting matrix.
It is important that when existing material is used for these purposes that it be taken without strings attached.  The entire team should be willing and able to let existing practices, formats and preferences go as needed in order to fulfill the purpose of each of the twelve tools.  This is easier said than done in many cases, and a facilitator can help greatly to overcome hindrances and assist the team to focus on constructive ways to build trust and transparency and establish actions for positive change.
Will it Really Work?
This Visual System of Work has been used with numerous companies from cabinet makers to loan providers.  The main prerequisite for use is a willingness to change.  When a company, starting with the owner and the upper management, is ready to change, great things can be accomplished.   This can usually already be established when these parties respond to the "Three Questions" in Tool 2 of the VSOWTM.  Some companies have been able to turn from net loss to net gain within a 90 days.   Others have experienced slower, but continual improvement and have continued using these methods to produce lasting change in their businesses.
In his book, "Visual System of Work Toolkit", David Lord lets leaders in some of these companies speak for themselves and how they used the tools to produce change in these companies.  Each one has a different perspective and has use the tools in their own way, with David's guidance.
It is Time to Get Started
Change can be initiated at any time, but we need to make room for it.  If improvement is a priority for you, we would like to introduce you to the Visual System of Work to help your business.  To learn more, schedule an appointment with us to discuss your situation and establish a plan to make more and more money, faster and faster.
You can also see more about ArbeitStrom on our website and view some of our options on our Services page.
If you would simply like to provide some feedback or as a short question, you may use our Shortform to send this to us quickly.
Thank you for your interest in ArbeitStrom!